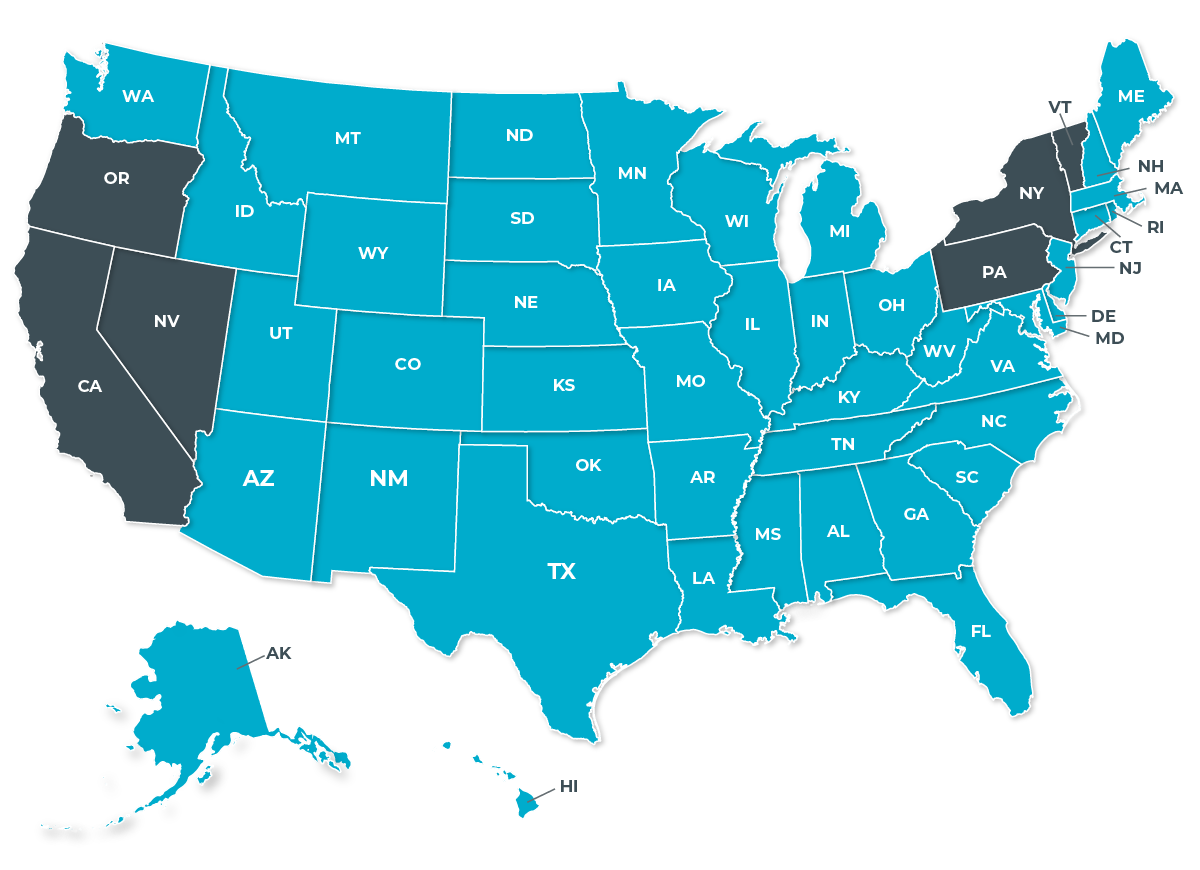 AHP Servicing LLC is licensed to engage in mortgage servicing activity in the states colored blue. This map indicates where AHP Servicing LLC holds required company mortgage servicing licenses or is otherwise able to service performing first lien mortgage loans pursuant to an applicable statutory exemption or exception. Note: The status of other types of licenses related to certain activities other than first lien mortgage servicing, such as loss mitigation or statutorily defined collections efforts, is outside the scope of this graphic aid.
State or City, Registration Type, License #:
Alaska Business License #1058668
Kansas Mortgage Company License #MC.0025522
Nebraska Mortgage Banker License
Iowa Mortgage Banker License #2018-0077
Montana Mortgage Servicer License #1651788
Washington Business License #604-151-629
West Virginia Mortgage Lender License #ML-36080
Wisconsin Mortgage Banker License # 1651788BA
Alabama Consumer Credit License #22489
Kentucky Mortgage Company License #MC405758
New Hampshire Mortgage Servicer License #22125-MS
Oklahoma Mortgage Broker License #MB011624
Colorado Mortgage Company Registration
Maryland Mortgage Lender License #22999
South Carolina-BFI Mortgage Lender / Servicer License #MLS - 1651788
Arizona Collection Agency License #0948863
Louisiana Residential Mortgage Lending License
North Carolina Mortgage Servicer License #S-177210
Arkansas Combination Mortgage Banker-Broker-Servicer License #113385
Maine Supervised Lender License #1651788
District of Columbia Mortgage Dual Authority License #MLB1651788
Massachusetts Debt Collector License #DC1651788
South Dakota Mortgage Lender License #ML.05184
Florida Mortgage Lender Servicer License #MLD1557
Michigan 1st Mortgage Broker/Lender/Servicer License #FL0021293
Tennessee Mortgage License #143117
Georgia Mortgage Lender License/Registration #60068
Michigan 2nd Mortgage Broker/Lender/Servicer Registrant #SR0021358
Texas Debt Collector File Number 20180169
Hawaii Mortgage Servicer License #MS212
Minnesota Residential Mortgage Servicer License #MN-MS-1651788
Texas - SML Residential Mortgage Loan Servicer Registration
Illinois Residential Mortgage License #MB.6761348
Mississippi Mortgage Lender License license # 1651788
Utah-DFI Residential First Mortgage Notification
Indiana-SOS Collection Agency License #1651788
Missouri Company License #17-2369
Washington Consumer Loan Company License CL-1651788
Ohio Residential Mortgage Lending Act Certificate of Registration # RM.804339.000
Arkansas Collection Agency #5624
TEXAS BORROWERS: CONSUMERS WISHING TO FILE A COMPLAINT AGAINST A MORTGAGE BANKER OR A LICENSED MORTGAGE BANKER RESIDENTIAL MORTGAGE LOAN ORIGINATOR SHOULD COMPLETE AND SEND A COMPLAINT FORM TO THE TEXAS DEPARTMENT OF SAVINGS AND MORTGAGE LENDING, 2601 NORTH LAMAR, SUITE 201, AUSTIN, TEXAS 78705. COMPLAINT FORMS AND INSTRUCTIONS MAY BE OBTAINED FROM THE DEPARTMENT'S WEBSITE AT WWW.SML.TEXAS.GOV. A TOLL-FREE CONSUMER HOTLINE IS AVAILABLE AT 1-877-276-5550.
THE DEPARTMENT MAINTAINS A RECOVERY FUND TO MAKE PAYMENTS OF CERTAIN ACTUAL OUT OF POCKET DAMAGES SUSTAINED BY BORROWERS CAUSED BY ACTS OF LICENSED MORTGAGE BANKER RESIDENTIAL MORTGAGE LOAN ORIGINATORS. A WRITTEN APPLICATION FOR REIMBURSEMENT FROM THE RECOVERY FUND MUST BE FILED WITH AND INVESTIGATED BY THE DEPARTMENT PRIOR TO THE PAYMENT OF A CLAIM. FOR MORE INFORMATION ABOUT THE RECOVERY FUND, PLEASE CONSULT THE DEPARTMENT'S WEBSITE AT WWW.SML.TEXAS.GOV.